Better Grills is supported by our users. We sometimes earn a small fee when you click on the affiliate links.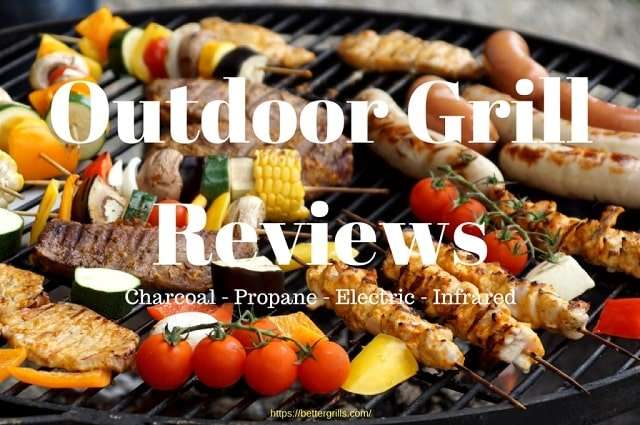 The Outdoor cooking grill reviews I do are based on reading many customer experiences on a variety of websites, forums, and consumer sites. I also use my experience with using high-quality kitchen equipment to come to a fact-based, unbiased conclusion.
There are many outdoor grill brands and types of outdoor grills. I looked at many of them. From charcoal to liquid propane and natural gas grills. I also looked at the newest electric and pellet grills. I tried to find alternatives for balconies and patios if charcoal or gas is not allowed.
Types of Grills
There are so many different types of grills that it is hard to mention them all. Here are the ones I am focusing on at this moment
Outdoor Grill reviews I have finished

Finding the best outdoor grills can be very time-consuming. With the help of my outdoor grill reviews, you save a lot of time. Here you can find all the grill brands I reviewed.
Camp Chef
Camp Chef is becoming a very popular brand and I have read some great things about all the models. Click on the link to see all Camp Chef pellet grills.
Char Broil
No website about grilling and cooking outdoors can leave out talking about CharBroil infrared grills and the benefits.
Click here to see all models.
One thing I like to mention is the Turkey fryers from this brand.
Don't forget to have a look at the Big Easy turkey fryers.
Louisiana Grills
This is one brand that I can't leave out here. Well known for quality and performance. You can read my Louisiana Grills reviews on its own page.
Expert Grills
Not so well known as other brands but they have some nice models that are affordable.
You can have a look at the Expert grill reviews here.
Fuego
the Fuego grill was designed by an apple company designer and you can tell by the way it looks. You can read my  Fuego grill review here.
Kenyon
Kenyon grills are also called boating grills because of their rust-free design.
Click on this link to see the Kenyon grill reviews
Napoleon
When you say grills and add the word quality you automatically see the word, Napoleon.
Their grills are high priced but also high quality. You can read all Napoleon grill reviews here.
PK Grills
Pk grills are in my opinion a walk down memory lane. Their design had not changed much but the quality also remained the same. Read my PK Grill reviews for you.
Rec Tec
I have made a page for pellet grills, but Rec Teq I would like to give its own place here.
I believe that their quality is great and not yet equaled by any other brand.
I did a full Rec Tec grill review here.
Traeger
Who has not heard of Traeger? I guess we all know that brand. They make very nice pellet grills and are a top-selling brand.
I did Traeger grill reviews here on this page.
Weber
Weber grills are still one of the most selling grills. Little higher priced but in most cases, you get what you pay for.
We looked at the most popular models in our outdoor grill reviews and had a good look at them for you. I try answers to questions like What is the best Weber grill to buy and how many years does a Weber grill last in our Weber grill reviews
Z Grills
Not very well known yet, but I think that will change fast. They are moving up in the market some people claim they are the same as Traeger but then a little nicer prices.
I let you be the judge of that in my Z-grills reviews
Grill Safety Tips
It does not matter if you use a gas grill, charcoal, or any other type of grill outside. Safety should always be your first concern. There are a few easy steps to make your grill area a safe place with no chance of catching anything on fire.
here are our outdoor grill safety tips we found on: https://www.nfpa.org/public-education/by-topic/seasonal-fires/grilling/outdoor-cooking-with-portable-grills.
Propane and charcoal should only be used outdoors
Place the grill away from your home, railings, leaves, and tree branches
Keep children and pets at least three feet away
Always keep your grill clean and grease-free
Never leave your grill unattended
Open your lid before lighting a gas grill
Make sure the grill is off after using it
Keep a spray bottle of water ready
Keep a fire extinguisher at hand
Charcoal Grill Safety Tips
Use a charcoal starter, electric charcoal starter, or a chimney starter
Use a good extension cord for electric charcoal starters
If you use starter fluid only use charcoal starter fluid
Never add starter fluid to a fire
Let the grill completely cool before disposing of charcoal that is left
Gas Grill Safety Tips
Propane or even natural gas can be very dangerous and has been the cause of many fires. With the right precautions, you can prevent dangerous situations.
Never leave your gas grill unattended
Check for leaks every time you use it
When you smell gas turn the gas off immediately
Check your hoses and connectors with water and soap
Electric Grill Safety Tips
Electricity and water do not get along too well, we all know that. Electric grills can be great to use in places where it is not allowed to use charcoal or propane gas. A place like balconies, apartment buildings, and more.
By using our tips you can use your electric outdoor grill safe.
Don't use it in the rain
Use a Quality extension cord
Use a GFI outlet
Keep the extension cord out of the way
By following these outdoor grill safety tips, which are mostly common sense, you can prevent becoming a statistic in one of the fires that got started by using any type of outdoor grill in the wrong way.

Outdoor Grill Reviews – FAQ
There are many questions to be asked before buying a grill and I am finished with a step-by-step guide to help you with that but for now, I am just trying to answer a few questions here that we found while doing our outdoor grill reviews but you can also read our how to buy a grill guide here.
What is the best gas grill to buy?
The question of what is the best gas grill is one of the hardest to answer questions you can ask me. My first response is to say that you should buy the best grill you can afford.
But then you also have to make sure it is the size that fits the number of people in your family. The average size is about 70 square inches per person if you also cook things like vegetables on it.
Since most of the time, we only use it for meat you can get away with less space and save money in that way. You can read more in the section of our grill buying guide where we discuss how to choose a propane gas grill.
How many years does a gas grill last?
This is like asking how long a car will last. It all depends on the quality of the grill and how you take care of it. Cleaning and storing it after you have used it and keeping it covered with a good quality grill cover are in my opinion the two most important steps to take for keeping your grill in shape for many years.
Are infrared grills any better?
This is very personal, but in our outdoor grill reviews, we found that they are becoming very popular. I personally love my small Char-Broil infrared grill.
Fewer flare-ups and faster cooking are the plus point. Harder to clean is a con point in my experience. I love to grill burgers on it because of the lack of flare-ups I always have on my charcoal grill. For flavor, and when I have more time available, I prefer my charcoal grill.
Should I use a grill cover?
My simple answer would be YES! Maybe if you keep your grill in the garage every time you use it is not a necessity, but I still advise it.
Keeping your grill outside even on a covered patio or porch still exposes it to the weather. Using a good quality grill cover can make your grill last many years longer.
You can find all the grill covers we reviewed here: https://bettergrills.com/grill-cover-reviews/
What are the different types of grills?
I think I covered many types of grills in our outdoor grill reviews but if I find more they will be added to it. Basically, there are grills that run on charcoal or gas.
There are Propane grills that are portable or have multiple burners. The same basic scenario for infrared grills.
Some grills are just to grill and others can also be used for smoking. There is in my opinion a grill available for any type of outdoor cooking you can think of. It is just a matter of finding what fits your budget and way of cooking.
Can grill grates go in the dishwasher?
In my opinion, you can use the dishwasher to clean most grill grates. The only exception is cast iron grill grates. They will rust fast. Better is to clean them and after that coat them with oil. I never use the dishwasher to clean my grill grates because I use a high-quality grill brush and my porcelain-coated grates are very easy to clean.
I hope my outdoor grill reviews helped you in your search for the best outdoor grill and BBQ for your type of situation.
Eddie van Aken
Eddie van Aken has years of experience in running his full-service restaurant and with this came working with using and dealing with all types of kitchen equipment. With his experience, he is able to find all the pros and cons of grills and add them to the grill reviews he is doing. You can read more on the about page for Eddie van Aken